As of December 2023 I am no longer looking for contract work, as I am working full time for Allovue.
A freelance consultant, developer, and teacher who can join your project team to:
accelerate the delivery of new features or elimination of technical debt
plan and break down work for a new project
manage a group of individual contributors
mentor junior developers
level up the documentation, automation, or component systems
join the QA team and, with code-level knowledge, improve software stability
Technology Proficiencies
Elixir
Phoenix
LiveView
Project Management
GitHub Projects
Absinthe/GraphQL
Tailwind
GitHub Actions
Postgres
CQRS/Event Sourcing
Oban
Rust
Docker
React
React Native
Svelte
SvelteKit
Ash Framework
OpenTelemetry
Advanced CI/CD
Objective-C
Swift
MacOS
iOS
Ruby on Rails
PHP
Perl
Recent Client Outcomes
Built OAuth and API consumption logic against Google and Microsoft Graph for a company in the security observation space.
Ongoing maintenance and enhancements to a HIPAA-compliant healthcare platform spanning mobile apps, admin web, and GraphQL.
Helped a text and voice communications team replace an Ember UI with LiveView, including a stepped wizard experience, client-side S3 uploads, and CSV processing.
Contributed to a large e-commerce platform's migration from Java to Elixir, including individual contributions related to Facebook API integrations alongside heavy mentoring of previous Java team members new to Elixir.
Rate and Availability
Available and open to a variety of project types and sizes.
My rate is $100-$150 per hour, with discounts available for open-source initiatives.
Testimonials
Michael's worked with us on multiple projects as a fractional engineering leader and I couldn't recommend him more highly. He's excellent at working with non-technical stakeholders and junior engineers alike, he's a great engineer, and a deep appreciation for context permeates all the work he does. He's also a really nice guy and very easy to work with. You should work with Mike if you get the chance.
"Zorn is a great Software Engineer, but also a great mentor to other Engineers on the team and an amazing partner and resource for Product teams. I would love to work with him again!"
"We would highly recommend Michael to anyone who would benefit from a senior software developer with an excellent technical approach, wide and deep knowledge as well as a great attitude."

"Michael was a valuable contributor to our startup project. His feedback during code reviews was invaluable. He dramatically improved the quality of our code base. As if that wasn't enough, Michael did an excellent job leading by example in software development best practices, while demonstrating excellent initiative, and self management. We would gladly work with Michael again."
More background and testimonials on LinkedIn.
Examples of My Work
Open Source
Franklin is written in Elixir, Phoenix, and LiveView and is an intentionally over-engineered blog application. It uses an event-sourced / CQRS core (via Commanded) alongside a modern component-based UI presentation. It aims to make even the simple things overly complex in the spirit of personal education toward these architectural decisions.
Franklin is no longer an active project but remains on GitHub via its public code repo and project board. for a sense of where it was headed.
Videos
Creating Your First Elixir/Phoenix CI Check with GitHub Actions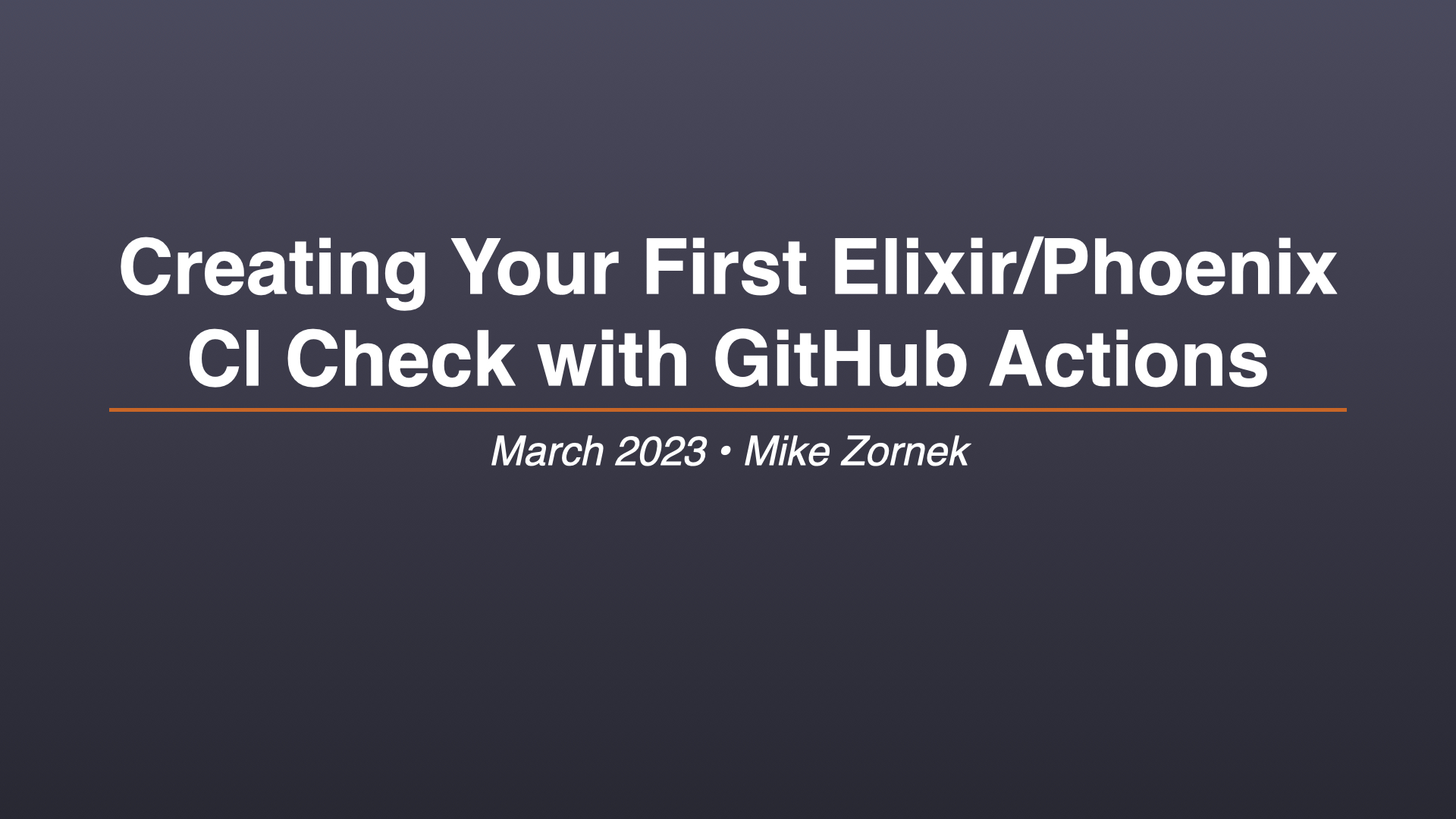 YouTube — This talk is for people curious about the basics of GitHub Actions and how they can utilize this automation tool to better verify code changes within their Elixir projects. The presentations consisted of of a lecture, live audience exercises on GitHub, and close with time for questions.
GitHub Actions enables you to build custom automations right within your GitHub repo. These automations can be used for Continuous Integration checks (verifying the app builds with no warnings, all the tests pass, etc), Continuous Deployment (package your app for release, execute the release, etc.), and many other creative workflows. The service is free for public repos and has a generous allocation for free-account private repos.
GitHub Projects to Help You Organize Your Side Project TODO List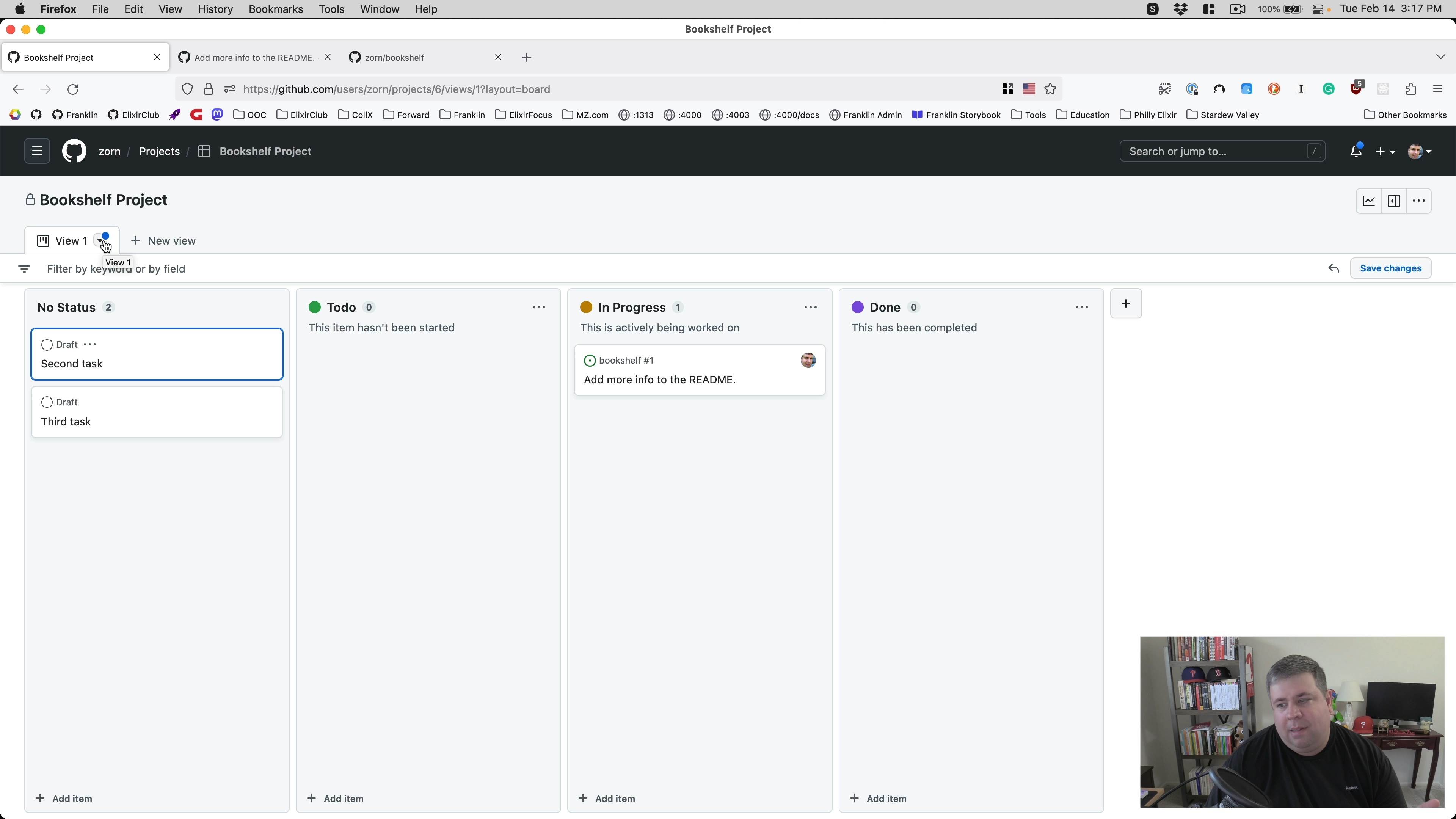 YouTube — During this presentation, Mike Zornek will introduce and demo GitHub Projects, which helps you track and manage issue status alongside custom fields related to your GitHub issues.
Using GitHub Projects, you can use it better break down and schedule the work of your side project.
Exercism Elixir Track
YouTube — Exercism is a platform that provides a learning experience for programmers. It provides a series of exercises that you can work through.
I recorded myself working through the Elixir track and created a video series to help others learn Elixir.
Code walk: Updating Franklin to Phoenix 1.7.1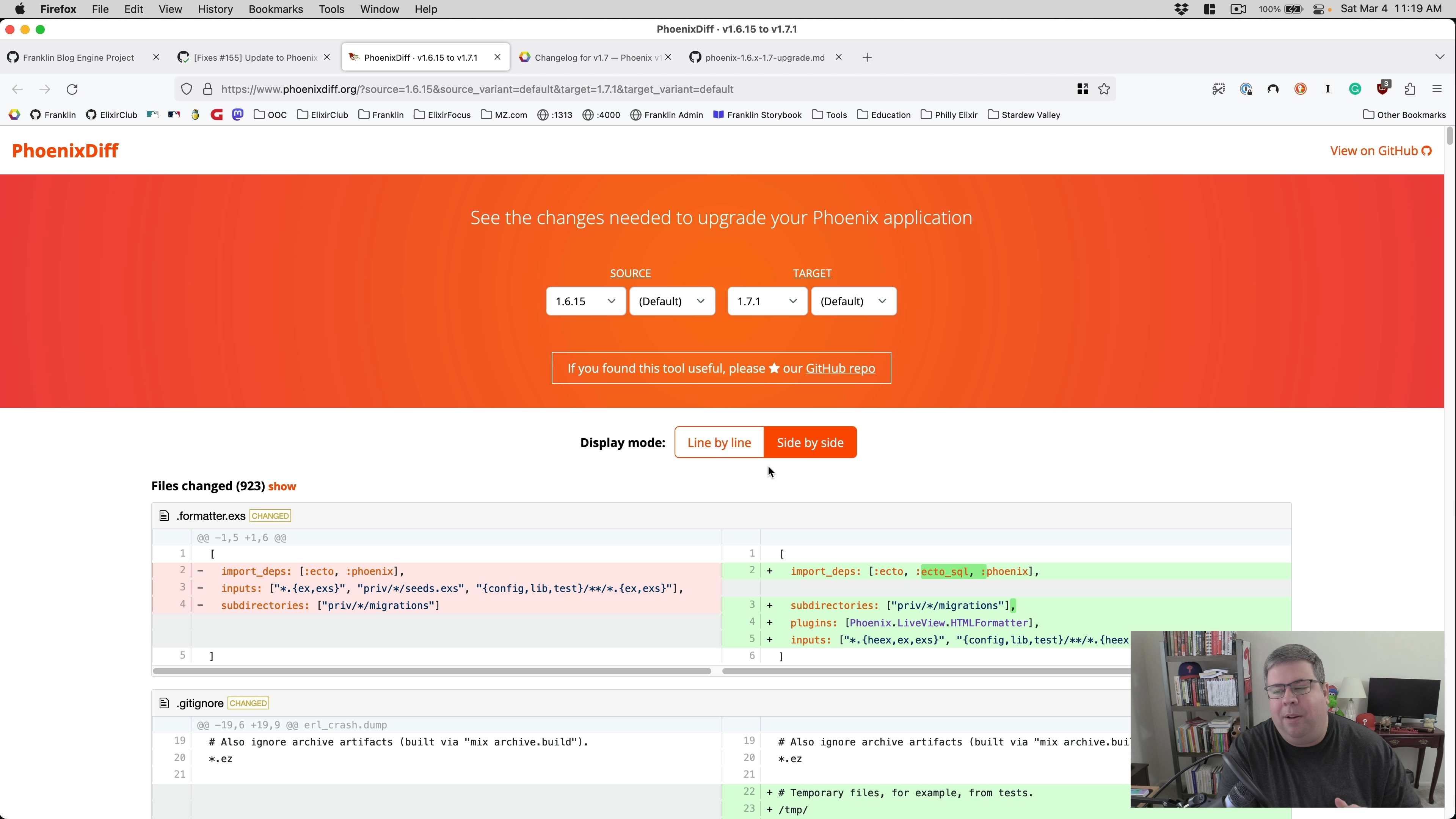 YouTube — In this screencast, I walk through how I updated Franklin to the latest major version of Phoenix, showing some helpful tools and things to be on the lookout for.
Articles
Community
Elixir Book Club (member) biweekly book club reading and discussing topics of Elixir and general programming.
DockYard Academy (volunteer mentor) is a fully-remote educational program focused on providing practical programming experience to prepare students to fill the many Elixir roles currently seeking skilled developers. I volunteer as a mentor on occasion.